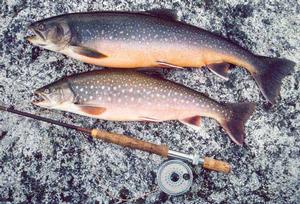 Distribution
The Arctic Char lives above the Arctic Circle, and in Europe you can find it in a many rivers in southern Greenland, Iceland and Northern part of Norway. If we move down under the water surface where the arctic char lives, we will find many exciting facts. The char thrives and grows at low temperatures, but will seldom weigh more than 3 kilograms. When the river ice loosens around May, the Arctic Char migrates from the river and out in fiords to graze on small shrimps and other Crustaceans. This graze migration is seldom longer than 30 kilometres away from the home river and lasts for 30-60 days. It is not abnormal that the fish have doubled the weight in this short and hectic summertime.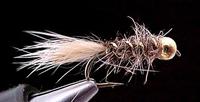 Gold bead hare ear nymph
Recommendable flies
In opposition to other salmon species like the Atlantic salmon (salmo salar) and Sea trout (salmo trutta), the Arctic char often continues to feed after arriving the river to spawn. Early in the season, usually in the mid of July, the biggest char migrate to the home river. Later in the season the smaller fish pursues. You can find the char in the slow water and in the pools of the river. If you are lucky to find a shoal of chars, you can experience an anglers dream. I have used both wet flies like Olsen and March brown silver with great success. If you want to fish with nymphs, Golden ears nymph is a lethal weapon! Some of the best dry flies are Mosquito, Adams, and Blue Dun. Fishing char with dry flies is something of the most demanding and exciting fly-fishing I have experienced. The fly often disappears discreet from the water surface. Due to the fact that the char slurpe the fly it has to be hooked very fast.

The Arctic Char in meals
After the Arctic char is caught, you have a fish to use in gourmet meals! When storing this specie on chilled ice or after thawing, shiny slime will appear on the skin. This slime is a fresh slime, and not a sing on decomposition as appears on stale fish. If you are lucky to get an Arctic Char, you can roast or bake the fish, and serve it together with fresh salad and some white whine. Below you can find some links to recipes for Arctic Char. Bon appetite!